ThuApr28 Textless
No texts tonight. They come in on a computer and I don't know my new computer-generated password. Well, I have it now, but I didn't during the show. If you texted in, tough titty. I mentioned it like, a million times. The Big Game worked out fine and a good chap by the name of Mark Phillips from Clonmel won our prizes.
Tom Cruise
is going out with
Katie Holmes
? What the f...?
Two words: Kathryn Thomas.
We were talking about her for a while. She's on the cover of VIP mag this month. Have you noticed, Irish telly has loads of good looking girls though:
Claire Byrne from TV3
YOWZA!
Lucy Kennedy from the Ex-Factor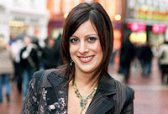 Grainne Seoige - obviously
and Sharon Ní Bheolain
BUT from the lads side of the Irish TV fence, we have this:
What's that about? To be fair to him, Wee Ray is the only one flying the flag for the Irish male. Well done, Darcy - we salute you!
Top Texts: None
Most Requested Song: By calls alone, it was The Game ft 50 Cent - Hate it or Love it
Blast! Extra: What we talked about off the air:
Have a good weekend - talk Sunday night at 10
Ray